North Goa Real Estate
---
Deal Makers in North Goa
Featured Projects in North Goa
Featured Listings in North Goa
Featured Agents in North Goa
Top Developers in North Goa
Featured Developers in North Goa
About North Goa
---
Ever wanted to have your own vacation home?

A home by the beach is not just a dream, it could be real.

Are you sick of the fast paced lifestyle in your city? Planning to make a move?

Can Goa be more than just a tourist spot, perhaps a good investment?

Read this article to get a better idea about North Goa and how it has taken a higher spot in the Real estate market.


North Goa - Second Home –Investment

India's real estate sector comprises of four sub sectors namely housing, retail, hospitality and commercial sectors. While metro cities are preferred choices for a major chunk of the population, thanks to the good career prospects, high standard of education lifestyle choices, and access to much more within the city, living in it does not always guarantee a peaceful existence.

The constant hustle-bustle, long traveling hours, heavy crowd, uncontrollable traffic jams, excessive pollution and lack of space and greenery are a few of the downsides to city living. However in the past few years a rise in the trend of holiday homes can be observed as the people living in the city are consciously seeking opportunities to take a break from their fast-paced lives and invest in holiday homes.

North GOA - One such location that has long boasted of being India's favourite holiday spot with its sandy white beaches, clean blue waters and lush green fields is none other than Goa.

The Portuguese influenced architecture, delicious Goan food, relaxed lifestyle and not to forget, its most demanded pumping nightlife attracts tourists from all around the world as well as all over India.

The recent past is also a witness to a steady influx that the people are choosing to exchange their fast paced city lives for a more creatively satisfying and tranquil experience of living by taking their business food art and culture to Goa to maximize the tourist aspect within Goa. People have come up with various full- fledged creative scenarios, in order to transform Goa into the ideal holiday-cum-home destination.



Real estate influence on NORTH GOA (2007 - 2015)

In 2007 Goa topped the list of second home investment destinations. However, post 2009; the real investment market in the state saw a fall in interest among non-Goans towards investment in the residential sector. In order to revive the market, the state government then increased the FSI (floor space index) in some prime locations including Margao, Which led to a major boost for the new projects and the market developed considerably in 2011-2012.

Eventually in 2015 Goa was recorded as the state having the highest per capita income in the country. This coupled with a growing economy supported by service and manufacturing industries, making Goa an attractive destination not only for domestic but also for international investors. Goa's `land acquisition policy ' has made the market more lucrative than before. North Goa has come to be considered as one of the liveliest and more of an investment market since it offers better rental and resale avenues and it was the first to see a major development in terms of real estate.


Real estate Influence on NORTH GOA (2015 - 2019)

Some of the locations in North goa and the property trend since 2015 to 2019 are shown using the Bar below.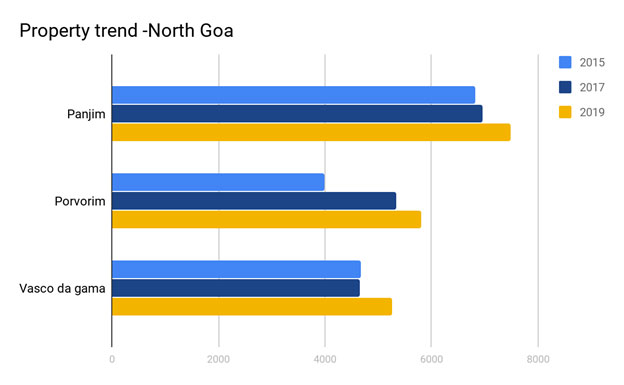 Goa is simply a clean and green state with less traffic, crowd and pollution, making it a counterpart of the city lives that we all live in. The quality of life is better and is rated as one of the best states to live in India. Goa's property market is divided into two micro markets commonly known as North Goa and South Goa. If you are a regular visitor to the sunshine state and would like to have your home based in this place then north goa is the best option.


Let me tell you why

1. TRAVEL AND CONNECTIVITY
The 350 km long National Highway in North Goa connects cities like Mumbai and Pune making travelling convenient especially to these cities, exclusively by road. A work on progress, airport at Mopa, will save you the trouble of driving all the way down to Dabolim in order to board a flight, which most certainly, you would end up missing if stuck in the traffic. Thivim Railway Station, Mapusa and Panjim bus stand are some important landmarks in North Goa that contribute majorly in making travel easier in Goa.

2. COASTAL REGION- NORTH GOAN
The north Goan region is considered to be the most preferred coastal region of Goa because of its greater access to peace striking facilities such as resorts, boutique hotels, multi-specialist hospitals, popular beaches, markets, restaurants, music concerts, cheerful events and nightclubs. Even people looking to rent a place or relocate to Goa from other ends of India prefer to settle around the North Goan coastal belt and areas around Panji, because of the upbeat lifestyle opportunities and convenience that this region offers.

3. TRIGGERING INVESTMENT- Resale value & Capital appreciation
Within Goa, especially the North region of Goa fetches a higher investment proposition compared to South Goa, because of the excellent tourism and commercial business and art activities that take place here. North Goa is a diverse investment destination because of its attractive ambience, for its cosmopolitan lifestyle, is well connected to places around like the other cities and has better access to entertainment centers which is the reason why locations like the Candolim, Calangute, Baga and Arpora remain the top beach destinations to invest in North Goa

4. WELL KNOWN EPICENTRE OF GOA.
If you enjoy exploring and experiencing new things, then you will be drawn to Goa time and again. North Goa is popularly known as the epicenter of India's smallest state Goa. A few beaches such as Anjuna, Baga, Candolim, Morjim and Calangute are famous for the adventure sports like parasailing, jet skiing, sunset cruises and banana boat rides that they offer. But if you admire ancestral architecture, and have a thing for heritage sites and Vintage art, you could visit Fort Aguada, Basilica of Bom Jesus, Se Cathedral, Chapora Fort and Corjuem Fort for the best results. Every year Goa receives a huge number of tourists, making it one of the most preferred holiday destinations among national and international tourists. Holiday homes become the alternative for tourists, for long stay as well as flexibility that they offer.

So, if you are looking to invest in a home away from a busy city life, then make sure you consider north goa as one of the ideal options, as and when tourism reaches new heights, Goa only continues to grow as a more holistic environment for its residents.

Check out some of the best properties in North Goa


Disclaimer: The views expressed above are for informational purposes only. We do not guarantee the accuracy and completeness of the information and shall not be held responsible for any action taken based on the published information.

Located on the western coast of India in the Konkan region, Goa is the country's smallest state by area and fourth smallest in terms of population. It is India's richest state with a per capita GDP estimated to be about two and half times that of the country.


It was ranked the best placed state in terms of its infrastructure by the Eleventh Finance Commission and bagged the top spot for the best quality of life in a National Commission on Population survey based on 12 key indicators.

The city of Panaji or Panjim is the state's capital, while Vasco da Gama is its largest city. Goa is one of India's most popular tourist hotspots and is visited by a large number of foreign and domestic tourists who flock its many beaches, places of worship and world heritage architecture sites.

Demographics:

As per the 2011 Census, Goa has population of approx 14.59 lakhs, with about 60% people living in urban cities like Panaji, Vasco de Gama and Ponda. Konkani is the official language, though Marathi and English are also widely spoken.


Realty Bytes:

Property prices in Goa are lower than prime locations in Mumbai and Delhi, attracting a steady stream of buyer from both cities. Edcon, Naik-Navare, Ashray Developers, Devashri Group and Acron India are some of Goa's leading developers. Realty projects in the buzzing North Goa belt generate the maximum demand among buyers and investors.

Proximity and Landmarks Near North Goa
Baga Beach: One of the more popular beaches in North Goa.
Aguada Beach: Known for its Aguada fort and sandy beach.
Arambol Beach: A traditional fisherman's hamlet on the north of Keri beach and south of Mandrem beach.
Palolem Beach: Known for its soothing and serene ambience, this beach was also featured in the popular Hollywood flick The Bourne Supremacy.
Calangute Beach: North Goa's largest beach, about 15 kms from the capital Panjim.
Anjuna Flea Market: A popular weekly bazaar in Anjuna village made popular by hippies and budget tourists looking for a bargain.

Transport & Infra:

Goa's only international airport is located at Dabholim, near Vasco da Gama. Goa has a total of 224 km of national highways, 232 km of state highway and 815 kms of district highways.
Goa also has two major rail lines - one run by the South Western Railway and the other by the Konkan Railway. Major infra development projects on the anvil here include the construction of a new International Greenfield Airport at Mopa in North Goa.