Vadodara Real Estate
Popular Locations in Vadodara:
---
Deal Makers in Vadodara
Featured Projects in Vadodara
Featured Listings in Vadodara
Featured Agents in Vadodara
Top Developers in Vadodara
Featured Developers in Vadodara
About Vadodara
---
Real estate in Vadodara since last 10 years

How is Vadodara one of the best investment destinations?

Which part of the city is preferable for investment ?

Is Vadodara considered one of the best in the investors destination list?

Are you seeking a property to invest within gujarat?

If you want to know how and where you could Invest in Vadodara, You need to know how it has evolved in the last 5-10 years and how ready it is to be fruitful to its investors in the coming years.

Read along to know more...


Introduction :

Vadodara being one of the cosmopolitan cities of India, located in the central part of the Indian state, Gujarat, has come to be known as the largest beneficiary to the Indian process of industrialization.

Many different factors such as the availability of raw materials, financial resources, product demand, Financial & material resources, skillful mobilization of human resources and the most important of all the thriving public & private entrepreneurs have made Vadodara one of India's fastest growing industrial centers.

The city is very well backed by both support and social infrastructures. These are sufficient for the process of investment. The city has a sophisticated power supply network, which contains 48 sub stations and has six gas pipelines. Plus point - even the water supply is systematic and several other projects have been undertaken for the purpose of irrigation and industrial uses.

Connectivity - It also has a sophisticated road, rail and air connectivity, all of which makes Vadodara a preferred destination to invest in India.


Why is investing in Vadodara a good idea?

The Interests of people wanting to Invest in Vadodara, mostly concentrates in the Vadodara - Ankleshwar Industrial Area which is strategically located close to the Dedicated Freight Corridor (DFC) which in turn links Vadodara with the major dominating cities in India, also providing additional value to investors in the Vadodara - Ankleshwar region.


The key sectors of Vadodara would be - Biotech, Chemicals-
Petrochemicals, and Food & Agriculture. Its industrial infrastructure contains 13 industrial estates while 3 SEZs. The vadodara city has its own future outlook that has given it more preference. It also has export oriented industrial units, Ceramics, Chemicals, Pharma and Textile industries and has SEZs to cater to engineering. The city has integrated townships for investors, with more opportunity for development of Duel-fuel and Gas based captive plants.
The state government of Gujarat keeps no stone unturned to attract investors to Vadodara under its Vibrant Gujarat global investors Summit - It is an initiative of the state government of Gujarat in order to attract more and more foreign investment to Gujarat. With all the favorable investing opportunities, and a Vibrant backing of the government, Vadodara is surely one of the best investment destinations in India.

Some of the locations that have shown a rice in property rates within last few years is demonstrated below using a graph.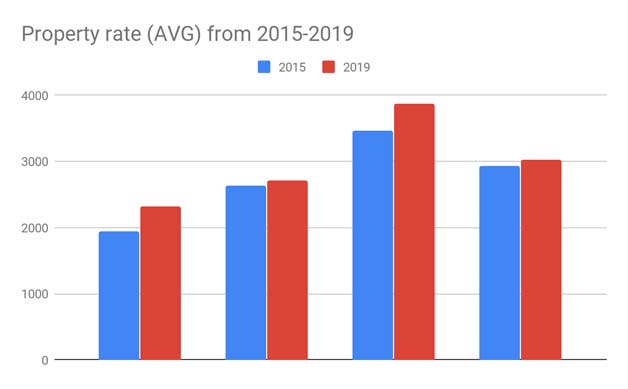 There are several other features that make these localities a hot choice for rental returns.
Several small developers have launched projects at rates that are lower than the existing market values. This has again impacted the capital values in these. For instance, capital values dropped by 2 per cent in Vasna Bhayli Road and 6 per cent in Gotri and Gotri Road during the Jul-sep 2013 quarter. This means a property that was available for Rs 30 lakh three months ago is now available for approximately Rs 28 lakh in Gotri and along the Gotri Road.
Like a cherry on the cake, the rental values in these localities have also been rising on a constant basis, which is the prime reason for the high rental yields in several localities within vadodara. Rental values have risen by 14 to 15 per cent in Gotri in the (Jul-Sep 2013) quarter while Vasna Bhayli has recorded a rise of 8 to 9 percent.
While the back of rising rental values and stable or falling capital prices, these localities are offering an opportunity to gain a handsome rental yield.
For an instance, according to Analysts the capital values in Gotri varies from Rs 2352-2950 per sq ft while rental values vary from Rs 7000-10,000 per month. Proximity to the central business district of Alkapuri provides an impetus to the rental demand in Gotri because the rents are too high in Alkapuri.
Similarly in Vasna Bhayli Road, capital values hover around Rs 1910-2400 per sq ft while rental are as high as Rs 10,000-15,000 literaly per month for a 3BHK unit. Demand is high from those looking for mid-segment housing that offer 3BHK and larger configurations for properties.
Thus, if you invest today in these locations you might be able to generate a reasonable rental return and also pocket a property at very competitive rates.
There are around 150 + RERA Registered projects available in vadodara .
To know more about the locations to invest within vadodara you can refer to the following :
Vadodara Real estate property
Disclaimer : The views expressed above are for informational purposes only. We do not guarantee the accuracy and completeness of the information and shall not be held responsible for any action taken based on the published information.