About Sumit Woods Pvt. Ltd.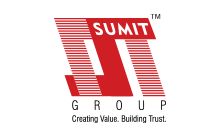 Sumit Woods Pvt. Ltd. has built a reputation for itself by shaping a world of fine living for people in the western suburbs in a span of fifteen years. Our tribute to high profile living stands testimony in a spectrum of landmark residential buildings in suburbs like Borivali, Dahisar, Mira Road & Vasai Road.

With an array of premium projects coming up in the prestigious neighbourhoods of Borivali, our group is all set to unleash a string of surprises with high value structures that exude high profile living.

"Our focus has mainly been on timely completion of all our projects, with no effect on quality of the outcome. This is where our vast experience of having completed numerous realty projects comes in handy. Our team of leading architects, technical consultants and legal advisors help us to maintain this fine balance on time, everytime.

"Years of experience in the construction industry backed by sound financial resources, Quality construction, modern amenities and timely possession is turning us into a preferred entity in the Realty sector.

By creating and delivering properties that are state of the art, Sumit Woods Pvt. Ltd. intends to impact the real estate sector in Mumbai, positively. This real estate development company in Mumbai is dedicated to offering high-quality settings that improve the present and look forward to the future. This property developer in Mumbai also seeks to make its presence known by generating high-quality real estate projects that provide customers excellent value for their money and the best possible level of happiness. When it comes to satisfying the requirements and requirements for real estate that are set out by the clients, this real estate development organization in Mumbai spares no effort.

In the competitive field of real estate in Mumbai, Sumit Woods Pvt. Ltd. is a major participant and is trying its best to bring quality and consistency on board. As a real estate developer in Mumbai, this company is actually helping many home buyers and real estate investors to achieve their dreams of owning their own homes in Mumbai.

By building good quality homes in Mumbai at decent enough prices, this real estate company is helping every home buying dream to become a reality. They construct every house with care, putting an emphasis on quality, practical details, and providing excellent value for the money spent. As Sumit Woods Pvt. Ltd. develops new homes and properties across Mumbai, one of the company's aims is to win people's trust and gain their faith in the real estate developments that they have to offer.
Real Estate Projects of Sumit Woods Pvt. Ltd.
---
Displaying 1 - 18 of 52 total results