Thane Real Estate
Popular Locations in Thane:
---
Deal Makers in Thane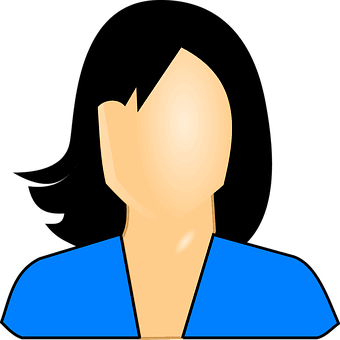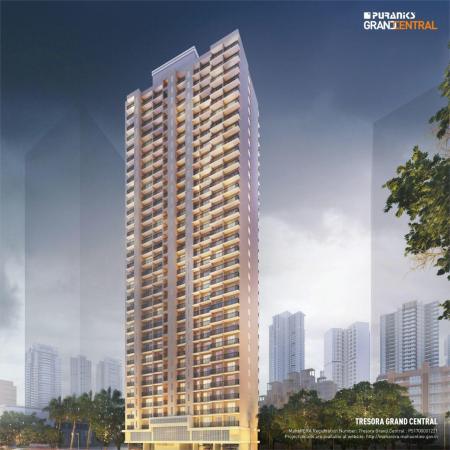 Vartak Nagar, Thane
88.00 Lacs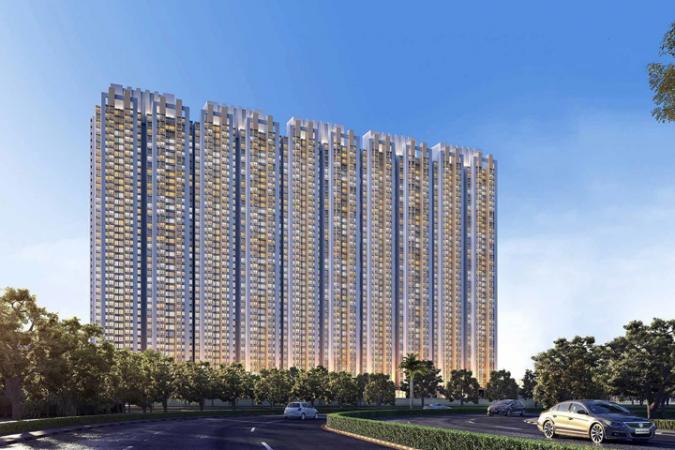 Pokhran Road No 1, Thane West, Thane
1.28 Cr (0% Brokerage)

Featured Projects in Thane
Featured Listings in Thane
Featured Developers in Thane
Real Estate Blog
- in Thane
About Thane
---
One glance at the Thane real estate market report will give you an insight into the tremendous progress that Thane real estate has made in the past couple of decades. The phenomenal growth of Thane property market and the rapid development as a residential and commercial real estate hub has astounded everyone.

If you are planning to buy a property in Thane west today you will be flooded with multiple new projects in Thane and a lot of quality under construction projects in Thane being developed by some of the best real estate developers in thane as well as other big realty brands of India.

One of the biggest advantages of Thane properties is that there is a huge variety of real estate developments in Thane. Thane real estate literally has the best property deals and one can find property in Thane across all budget points. From low budget flats in Thane to luxury properties in Thane, property buyers here are literally spoilt for choice. The Thane real estate report for the past decade has seen a constant growth in the demand as well as the capacity of the Thane real estate market to deliver varieties of property developments in thane to cater to the huge demand.

Why is Thane so popular?

The rise of Thane as Mumbai's alternate city and now as a great city to live has been spectacular indeed. Some of the biggest factors that have played their roles in the growth of real estate in thane include:

Clean environment:

Thane is also referred to as the city of lakes since there are almost thirty five laks that surround Thane. One key reason for its popularity can be attributed mainly to its good and clean environment. The yeor hills of Thane are every popular and are almost the green lungs of Thane. Overall the entire area of Thane and many prime locations in Thane have a very healthy green cover. Also there are many public parks and common amenities across Thane that have made the city of Then very beautiful and extremely friendly for living.

Affordable homes in Thane:

Also the fact the fact that there more affordable flats for sale in Thane and a lot of budget friendly homes for sale in Thane compared to Mumbai has attracted a lot of residents of Mumbai to invest in Thane properties. Many real estate investors in Mumbai who were constrained due to the crazy property prices in Mumbai found Thane properties affordable and extremely lucrative to invest.

Thane infrastructure & Connectivity:

The progress of Thane real estate has been also largely driven by its good infrastructure. Thane is very well connected to multiple locations throughout Maharashtra and therefore has become an important transitional hub for major businesses. From Thane you can reach Navi Mumbai or you can reach Mumbai easily using the Eastern Highway, Ghodbunder Road, Jogeshwari Vikhroli Link Road, the newly made SCLR, the very fast Eastern Freeway, National Highway number 8, Mumbai-Nashik Highway, etc. The Thane Belapur road also gives easy access to Navi Mumbai from Thane. In terms of railways Thane is very well connected to all major locations through the Central Harbour Rail Line, Thane-Panvel Rail Line and Central Railways. The strong connectivity that Thane has along with the existing infrastructure of roads has ensured that Thane property prices have increased steadily over the years.

Thane Metro

The recently approved Thane metro could be a major game changer for Thane real estate as it will ease the travel within Thane to a large extent. The entire Thane metro will run on a 29-km circular route and will be constructed by the Maharashtra Metro Corporation in support of the Thane Municipal Corporation (TMC). The Thane Metro project is expected to cost more than 13,000 crore INR and would include Metro Line-4 (Wadala-Thane- Kasarvadavali) and Metro Line-5 (Thane-Bhiwandi-Kalyan) as its two principle operating lines.

Line 4 of Thane Metro will connect the following locations: Kasarvadavali, Vijay Garden, Dongari Pada, Tikuji-Ni-Wadi, Manpada, Kapurbawdi, Majiwada, Cadbury Junction, Mahapalika Marg, Mahapalika Marg, Thane Teen Haath Naka, Maharana Pratap Chowk, Mulund Fire Station, Dr Hedgewar Chowk, Shangrila, Bhandup Metro, Bhandup Mahapalika, Naval Housing, Gandhi Nagar, Surya Nagar, Vikhroli Metro, Godrej Company, Shreyes Cinema, Lakshmi Nagar, Pant Nagar, Garodia Nagar, Amar Mahal Junction, Siddharth Colony, Suman Nagar, Anik Nagar Bus Depot, Wadala TT, Bhakti Park Metro.

Line 5 of Thane Metro will connect the following locations:

Kapurbawdi, Balkum Naka, Kasheli, Kalher, Purna, Anjur Phata, Dhamankar Naka, Bhiwandi, Gopal Nagar, Temghar, Rajnouli Village, Govegaon MIDC, Kongaon, Durgadi Fort, Durgadi Fort, Kalyan Railway station, Kalyan APMC.

These two lines of Thane Metro will bring about a major change in the way people travel within Thane and Thane affordable housing as well as the Thane real estate market in general would get affected in a positive manner due to the metro.

Good business hub:

Thane has been a good business market over the years and as the real estate market in thane has blossomed there have been a lot of residential developments in thane as well as commercial property developments in Thane. Therefore the number of companies and businesses in Thane has grown exponentially and this includes the growth of manufacturing, service as well as the IT industries in Thane. This factor has attracted a lot of new talented young work force to Thane region from across Maharastra and other parts of India making Thane real estate richer in terms of the demand. You can therefore see a lot of new projects in Thane including new projects in Thane Ghodbunder road as this particular location has developed phenomenally over the years. Major real estate developers like Lodha, Rustomjee, etc. have their projects in Ghodbunder road including Rustomjee Urbania, Lodha Splendora, etc.

Important locations in Thane

Some of the key locations in Thane and upcoming locations in thane in terms of real estate investment in Thane include areas like Ghodbunder road, Kolshet road, Majiwada, Balkum, Pokhran road, Hiranandani Estate, Thane west, Laxmi Nagar, Brahmand, Kasarvadavali, Vartak Nagar, Pokhran-2, JK Gram, Manpada, Bhayandarpada, Panch pakahadi, Dhokali, teen Hath Naka, Kapurbawadi, Shilgaon, Charai and many more.

There are many new projects in Thane east that easily qualify as affordable housing projects in Thane and many budget homes in Thane are being constructed here. People searching for new construction in Thane low budget also look at locations in Thane including Waghbil, Kasarvadavali, Bhayandarpada, Sai Nagar, Rabodi, Dandekar colony, Khopat, Thane west, Vasant Vihar, Tembhi Naka, Lokmanya Nagar, Ghodbunder road, Sainath Nagar, Balkum, GB road, etc. A new building project in Thane usually sells faster because of budget friendly price and good amenities that many people prefer. Apart from the above locations the popularity of low budget flats in Kalwa and the extreme demand for flats below 20 lakhs in Thane is giving rise to many new real estate locations in Thane.

If you want to buy a 1 bhk property in thane west you have a lot of options since the real estate developers in Thane west have paid special attention to the small flats category in Thane and have developed multiple projects for the same.

As in most cases there is always a very good demand for a property in thane west near station especially by people who use the trains a lot for travelling.

A typical resale flat in Thane west costs at least 30-40% lesser than a similar property in Mumbai city. For example flats for sale in Thane west Panchpakhadi and other low budget resale flats in Thane provide more amenities and facilities than similar flat options in Mumbai but come at a much lower price.

The most popular category of low budget homes in Thane happens to be the flats in Thane between 15 to 20 lakhs because many of the lower middle class families from Mumbai, Pune, and Thane itself prefer flats in this budget range. Since there has been a strong urge for flats for sale in thane west near railway station by many local buyers, many property builders in Thane have constructed multiple new projects near Thane railway station to cater to the demand.

Real estate developers in Thane

There are many property developers in Thane that are actively developing new projects in Thane that include low budget residential projects in Thane as well as luxury projects in Thane. Some of the big name real estate developers in thane include Rustomjee, Lodha Group, Kalpataru, Dosti Realty, Raymond Realty, Piramal Realty, Narang Realty, Wadhwa group, Hiranandani Developers, Sheth Group, Shapoorji Pallonji Real Estate, Puraniks, Vijay group, Tata Housing, etc. These and multiple other local property developers in Thane are developing millions of square feet of real estate in Thane through hundreds of the upcoming projects in Thane. The demand for under construction projects in Thane that come with flexible payment plans is also very high and therefore one can find multiple ongoing projects in Thane across the entire Thane landscape.

Real estate agents in Thane

As the per square feet cost of property in Thane is comparatively lower than that of Mumbai and as the Thane property market has boomed in the last couple of decades, there rea many professional real estate agents in Thane that ply their trade in Thane area. Many of these property agents and real estate consultants in Thane pr9ovide multiple real estate services in Thane. These include buying, selling, investing in resale flats in Thane, villas fro sale in Thane, bungalows for sale in thane, property documentation work in Thane, property registration in Thane, etc. They also provide services like booking in new projects in Thane, real estate investments in Land in Thane, dealing in land for sale in Thane, selling land for new projects in Thane to property developers, corporate lease in Thane, providing rental offices in Thane, providing flats on rent in Thane, etc. Most of the RERA registered real estate agents in Thane provide some of the best options for buying and investing in new projects in Thane. You can find the best property agents in Thane on 99sqft.com

Real estate marketing in Thane

Since there are a lot of new real estate developments in Thane including new residential projects in Thane as well as new commercial projects in Thane as well as new offices in Thane, there has been a huge growth in real estate marketing in Thane. Many property developers in Thane have adopted various property marketing strategies in Thane to reach maximum number of buyers from across all corners of India and also to tap the NRI population interested to invest in Thane. Property marketing in Thane includes real estate advertising in the print media, property marketing hoardings, online real estate marketing for Thane properties, Thane real estate marketing on social media and of course aggressive property marketing in Thane through real estate channel partners In Thane and property brokers in Thane. There are many real estate marketing companies in Thane as well as online real estate marketing companies in Thane that promote Thane real estate through digital real estate marketing as well as offline property marketing methods in Thane as well. 99sqft.com provides some of the best online marketing for Thane real estate and Thane properties for property developers as well as property agents in Thane.

Post your property in Thane online

For the fastest results in terms of selling your Thane property online, you can simply post your Thane property listings on 99sqft. When you post your free property ads in Thane online with 99sqft, you can expect the best response from property buyers in Thane as well real estate investors in Thane. Even if you are searching for a good property in Thane for self-use or investment, you can post your Thane properties online and find decent property options. As a home owner in Thane or a property investor in Thane, you can post your flats in Thane for sale or post your flats in Thane for rent online and get suitable buyers or professional real estate agents to contact you. As a commercial real estate owner in Thane, you can also post your shops in Thane for sale or rent or your offices in Thane for sale or rent online and get your property deals in Thane faster.


Are you wondering if it is worth buying a flat in Thane ?
Want to know if Thane is a promising city for property investment?
Have you gone through Thane Real estate market reports, just to find out the best localities in thane for investment ?
Wondering which is the best place to buy flats in thane?
If you nodded yes to any of the above, then you need to read further. Here in this article we talk about thane as a city and the properties that thane holds as a promising fruitful investment and the reasons behind it.
Thane - City that welcomes you.
Thane is a city in Maharashtra also known as Thana in Marathi, has another very famous name - the 'City of Lakes'. With a population of around 2 million people on a space of 147 sq km, it goes beyond its municipal limits.
The city has taken its roots so deep since 2009 to 2019 and has spread through as a part of the Mumbai Metropolitan Region, that it is now almost considered a part of Mumbai, especially because of its proximity.
Not only that, Thane also shares its Island the Salsette Island with Mumbai. The hills of yeoor and Parsik hill surround the city which are elevated 7 meters above the actual sea level. These are just one of more reasons why Thane is an apt city for a soulful home investment.
Connectivity and Infrastructure
Thane, also fondly known as Thana by the locals, has many location related advantages or rather we could put it this way, that it has made proper use of its location being in the centre of all.
LINKS - Mumbai - Ahmedabad - Gujarat
Thane city is linked to Mumbai via the Eastern Express Highway and the Eastern Freeway. There is a link from Thane to Navi Mumbai via the Thane-Belapur Road and also a link to central and western suburbs via Ghodbunder Road . lastly to areas in Gujarat via the Mumbai-Ahmedabad Highway.
Ghodbunder Road, Thane - a 20-km long stretch that connects the Eastern Express Highway and the Western Express Highway - Property rates of this locality have been seeing a rise since 2015, and well seem to keep rising thoroughly through 2017 -18 . specially due to its proximity to nature and fast pace of development paired with Government's proposed plans of enhancing connectivity.
According to property and real estate experts - there is a list that you need to check when you make a real estate investment. Called as (ELL)
Invest Early
Invest for a Long-term
Invest in a Location with Good Connectivity and Infrastructure
According to THE TIMES OF INDIA news report - After criss-crossing all over the Metropolis, Metro seems to be making its way into the hinterlands with the Thane Municipal Corporation, considering an independent route to connect Kalwa and Mumbra as to Thane and Mumbai.
It is good to know more than just the rates about the city you would potentially move into .
As Beautiful as a tourist destination – Thane
Flanked by hills, Thane is a tourist spot as it houses the Sanjay Gandhi National Park various temples and many lake. In fact the City of lakes is a nameThane was awarded with since it features 35 different lakes bare on itself. Some of the famous lakes that attract the maximum attention are the Kausa Lake, Kharegaon Lake , Upvan Lake, Ambe Ghonsali Lake, Joshi Lake and many more. Moreover, apart from being close to nature, access to the finest social infrastructural facilities like The Indian Institute of Technology Bombay in Powai which is around 20 kilometres away are few of the main advantage of living in Thane.
The growth of flyovers, highways and wide roads have not only changed the image of the city of Thane as one of the urban agglomeration, but has also attracted a population of working class.
Future connectivity
A proposed 32-kilemetre Metro link from Wadala to Kasarvadavali will further ease the commuting experience for the residents in Thane. Arterial roads like the Pokhran Road and the Ghodbunder Road offer road access to neighbouring localities. These localities have seen a huge rise in the prices in the recent years.
Thane city was the first to receive the railway link in India. The Central and the Trans-Harbour Line Suburban railway networks, provide excellent connectivity.
Heard of a customised App called as DIGI THANE? ( TMC)
Now, the city will soon make the lives of the residents easier as the Thane Municipal Corporation (TMC) has launched a mobile application called - 'Digi Thane', through which the citizens of the city can easily access the services of the TMC. Thane is set to witness more and more such developments in order to provide a world class living experience for its residents. With this development that makes the city smart, the demand for office space and residential properties have been on a rise and will accelerate further.
HOME BUYERS OR NOT - Have a closer look
Although affordability is the theme that highlights the residential market of Thane, the demand for premium housing has also seen an uptick in recent years. Integrated townships and high-rises are also hiking numbers. Many Home buyers have found an alternative destination in Thane, especially those who were looking for natural and spacious homes. Not only them, but big investors like leading informational technology companies have shifted their base to this location, in need of space and better environment and with a future vision of thane city.
Thane in the recent years is most evidently segregated into two sections - Thane east for the premiums and the relatively affordable, Thane west. Leading developers of the real estate industry, Godrej Properties, Lodha Group, Tata Housing and Hiranandani Constructions etc have launched their projects in thane city.
Localities you need to get your eyes on
The Thane-Ghodbunder Road area is a coveted hub for both homes and luxury properties. Some prominent localities in Thane for investment are Kolshet Road, Majiwada and Kasarvadavali , Thane east . Real estate experts believe that property buyers here have enjoyed a 300% growth from 2009 to 2015 . Economic advisors and analysts suggested an estimated 40% increase of employment opportunities in the Mumbai Metropolitan Region (MMR), including Thane. Which has turned out to be true in 2018-19
Such a predicted hike in jobs ensure a major rise in the demand for housing and subsequently could generate further capital appreciation for real estate investments in Thane . Thane has been listed as the Third most Industrialised District in Maharashtra.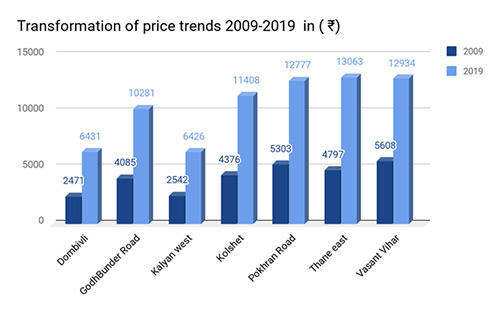 The graph above shows the price rate changes from 2009 to 2019 in the top most localities of Thane city.
Why invest in thane?

A city with so much scenic beauty and healthy environment to offer also is jumping the steps of developing to be one of the trending property locations with good Infrastructural development.


What else does a city need, in order to prove itself ?

Or could there be something more like a checklist ?
Here is what the checklist is about...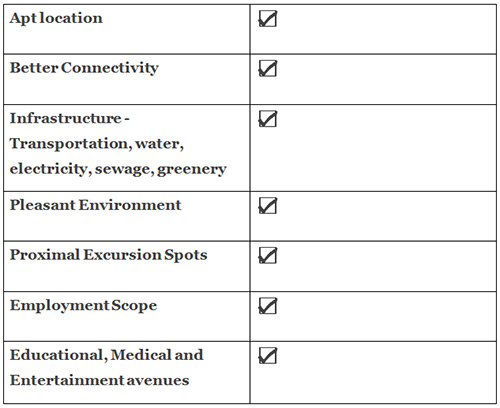 FIRST Smart Cities Council and Indicus Analytics have compiled a list of India's most promising cities. Without a doubt, Thane has made the list. Thane was featured in the top most category as it ticks all boxes in a promising city's checklist.

Thane City - Promising city checklist

Conclusion : Strong connectivity and an economy that's flourishing have been the growth drivers for the Thane real estate market. Thane not only promises you healthy, not so pocket snatching Homes and properties, but also shows its consistent growth and development.
so..

Are you ready to Invest ?

Or want to know more about Thane Real Estate projects and the Prices in the market ?

Disclaimer : The views expressed above are for informational purposes only. We do not guarantee the accuracy and completeness of the information and shall not be held responsible for any action taken based on the published information.
A growing satellite city in the north-east of Mumbai, Thane is also known as the City of Lakes - for the approx 23 lakes here. It is one of the oldest cities in the country with a history dating back approx 2,000 years. The city is located about 7 metres above sea-level and surrounded by the Yeoor and Parsik hills.
Marathi and Hindi are the two main languages that are spoken here. The largely cosmopolitan population also speaks English and Gujarati, among other Indian languages. Thane city also has a very good transport system with excellent connectivity to cities like Mumbai and Pune by road and rail.
In recent years, Thane has undergone a major transformation from an industrial town to a now favoured IT destination. There are five SEZs in the Mumbai-Thane belt, employing approx 46,000 people.
Weather
:
Thane has a tropical monsoon climate. However the overall climate is quite equable with days of high rainfall during the monsoons and few days of extreme temperatures. The driest days here are during the winter while its wettest days are usually during peak monsoons in July.
Realty Bytes:
Thane has witnessed strong real estate development in the past two decades by top builders including: Rustomjee, Hirananandani, Sheth, Dosti and Kalpataru. The city offers quality housing options for all income group categories. Thane's Ghodbunder Road, Pokhran road, old Thane and pockets along the Pune highway are witnessing the maximum activity in terms of residential developments.
Proximity and Landmarks Near Thane
Masunda Talao - One of its biggest lakes with boating facilities.
Yeoor Hills - Also known as Mama-Bhanja hills.
Essel World - A popular amusement park at Gorai.
Bassien - Known for the ruins of an ancient Portuguese fort.
Jawhar Palace - Known for its cool climate and popular tourist spots.
Matheran - A popular hill station at an altitude of approx 800m.

Transport & Infra:

Thane is well-connected with its neighboring suburbs through Central and a Trans-Harbour line suburban rail network. It also has an excellent public bus transport system, supported by autorickshaws and taxis.

The Eastern Express Highway and LBS Marg connect it with the eastern suburbs of Mumbai while the Western Express Highway and arterial Thane-Belapur Road connect it to the western suburbs and Navi Mumbai respectively.

Two mono rail lines have also been proposed connecting Thane with Dahisar and Kalyan. Work is in progress for seven flyovers connecting Thane with Dahisar, Ghodbunder and Bhiwandi.