About Event
Contact Number
+ 91 9619095955 / +91 9819567106
Email Id
haider@worldexindia.com / rampatgupta@worldexindia.com
Venue
Bombay Exhibition Centre (BEC), NESCO, Goregaon East, Mumbai - 400063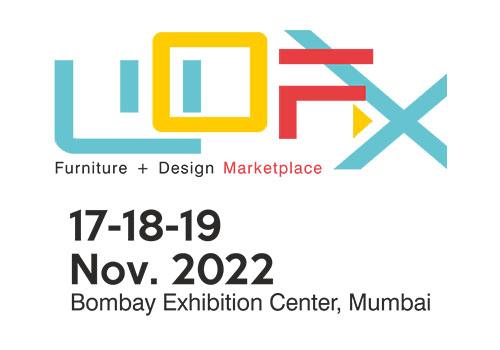 Date 17-18-19 November 2022
17 Nov (Thur.) 10.00 a.m. - 6.00 p.m.
18 Nov (Fri.) 10.00 a.m. - 6.00 p.m.
19 Nov (Sat.) 10.00 a.m. - 5.00 p.m.
ABOUT WOFX
New dimensions and innovations in Design & Décor from around the world
Gateway to Business Opportunities
New opportunities, new ventures, new collaborations to expand retail and distribution networks
Global Business Platform
International platform showcasing quality suppliers from India, Bangladesh, Singapore, Thailand, Malaysia , Indonesia, Vietnam, China, Turkey and more
Definitive Industry Sourcing Marketplace
Dedicated furniture & décor show fashioned as the definitive international sourcing marketplace to connect to leading builders, architects, dealers, distributors importers, retailers, etailers and other buyer groups.
Major Exhibit Categories
Home Furniture
Outdoor Furniture
Plastic Furniture
Modular Furniture
Airport Furniture
Theatre / Auditorium Furniture
Public Area Furniture
Hotels & Restaurants
Decorative Lighting
Office Furniture
Decorative Furniture
Kids Furniture
School / College Furniture
Railway Furniture
Hospital Furniture
Fittings
Décor
WOFX Significance
With the emergence of India as a burgeoning international furniture centre, the importance of well organised furniture exhibitions cannot be overstated.Not just India's furniture sector, but also the furniture rental business, is seeing a significant increase. The brick-and-mortar and internet sales sectors of the Indian furniture business are seeing robust expansion.

The furniture rental industry is also seeing robust expansion, which is anticipated to continue for the foreseeable future.As the world's fourth biggest furniture consumer and fifth largest furniture manufacturer, India's domestic furniture industry is projected to increase at a CAGR of 13.3 percent between 2021 and 2026, from $174 billion to $37.7 billion.This extraordinary rise is mirrored by online furniture sellers, whose revenue climbed from $300 million in 2017 to $920 million in 2020, at a compound annual growth rate of 32%, and is projected to reach $2.2 billion by 2026.
Similarly, the furniture rental industry, valued at $4.1 billion in 2020, is projected to reach $13 billion by 2025, at a CAGR of 26%.Redseer predicts that the combined furniture and housing market would reach $40 billion by 2026.In 2021-22, the per capita income will increase by 18.3%, and private consumption expenditures will increase by 7.9%, both of which contribute to the industry's exponential expansion.Urbanization also had a part, since 40% of the world's population will reside in urban areas by 2025, and the rising number of nuclear homes would increase furniture demand.
Another big element is the mainstreaming of internet shopping, where expenditure per consumer has risen over the last five years and is contributing around 1% to the overall increase. 20+ million new product buyers annually.Considering that the Indian furniture business is primarily unorganised, the WOFX World Furniture Expo was formed to help the development of the industry by offering a robust platform to allow methodical expansion of the organised furniture sector.
WOFX invites furniture and home décor firms from across the globe to India, showcasing a variety of global goods and styles.To explore business potential in India, brands and manufacturers from Italy, Turkey, Singapore, Malaysia, Indonesia, Thailand, Vietnam, China, Bangladesh, and the United States will interact with industry buyers.At WOFX 2022, there will be more foreign exhibitors than ever before, which is good news for Indian buyers seeking direct access to global suppliers.
WOFX will exhibit new technologies and modern designs, as well as promote business networking possibilities for the 15,000+ buyers from nine or more nations and regions who will be in attendance.

WOFX is a vital resource for us to comprehend these worldwide standards.Rajesh Bhagat, CMD of Worldex India and one of the WOFX's organisers, explained the reasoning behind the creation of WOFX.
"WOFX is positioned as an annual trade event where leading suppliers and brands from India and around the world can congregate with diverse buyer groups from India, other South Asian economies, and the Middle East.We strive to make WOFX a must-attend industry event and are pleased to have had a very positive reaction from all industry stakeholders.As a result, we anticipate that WOFX will continue to be the event of choice for foreign and domestic firms to exhibit their product innovations to the expanding Indian market."
President of Jodhpur Handicraft Exporters Federation (JHEF) Naresh Bothra commented, "I am eager to attend WOFX since it is a premium and exclusive B2B exhibition for the furniture sector targeting exports, Indian retail, contract furniture, and interiors."Vice-chairman of the Institute of Indian Interior Designers (IIID) Harwinder Matharoo said, "WOFX gives a wonderful platform for industry buyers to interact and do business with the world's top furniture and home décor firms.
We are convinced that industry experts will benefit from attending WOFX and will be able to take advantage of the business networking events and forums to strengthen their industry relationships."Jaison Chacko, secretary general of the Federation of Hotel and Restaurant Associations of India (FHIRAI), echoed this opinion, stating, "WOFX is an exciting, one-of-a-kind event that provides an outstanding platform for international design and décor professionals.
WOFX also gives a wonderful chance for local players to showcase their wares to the international community and compete with their international peers."Asheame Mehta, head of procurement at the Purchasing Professionals Forum (PPF) in India, said, "WOFX is an international-level programme.
The B2B exhibition platform in Mumbai is professionally organised, and the Purchasing Professional Forum of India (PPFI) is happy to be involved with it."The objective of WOFX 2022 is to provide a platform that allows business talks, showcases the most recent design trends, and encourages industry growth.

Serious industry buyers will attend WOFX, including India's leading importers, chain stores, hypermarkets, trading houses, architects, interior designers, large format retailers, franchisees, distributors, agents, real estate developers, corporate sourcing heads, e-retailers, government procurement agencies, and other key buyers from the region.
This expo will be a game-changer for international firms seeking to enter India, as well as for Indian firms seeking to forge stronger partnerships with architects, interior designers, retailers, purchasing managers, and other industry professionals.WOFX will be supplemented with matchmaking, interactive business forums, and networking events to facilitate the sharing of market knowledge and the development of stronger commercial relationships.
WOFX is a 'one-stop' supply platform that provides creative and varied solutions for the customization of all surroundings in the furniture and home décor industries.The Ministry of Small and Medium-Sized Enterprises and several important industry trade associations support WOFX.
Interested in this event? Enquire Now