About Pranav Constructions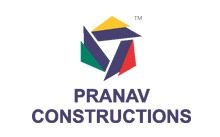 Pranav Constructions is one of the premiere construction company, engaged in the construction of Housing Projects. Company has a track record of successfully executing several construction projects on time. Pranav Constructions has a unique business model, with proven expertise in innovative thinking, project and cost management. We are focused on delivering high quality work within budgeted time and costs, as evident in the various accolades and repeat business. We know the blueprint for the successful execution of a project is as important as the blueprint for the project itself. That's why we develop accurate pre-construction budgets, as well as efficient and cost-saving construction methods.

Since start, Pranav Constructions has attained its name as a builder of landmark. Our success is grounded within the company's dedication to the success of its buyers and its individuals.

By creating and delivering properties that are state of the art, Pranav Constructions intends to impact the real estate sector in Nashik, positively. This real estate development company in Nashik is dedicated to offering high-quality settings that improve the present and look forward to the future. This property developer in Nashik also seeks to make its presence known by generating high-quality real estate projects that provide customers excellent value for their money and the best possible level of happiness. When it comes to satisfying the requirements and requirements for real estate that are set out by the clients, this real estate development organization in Nashik spares no effort.

In the competitive field of real estate in Nashik, Pranav Constructions is a major participant and is trying its best to bring quality and consistency on board. As a real estate developer in Nashik, this company is actually helping many home buyers and real estate investors to achieve their dreams of owning their own homes in Nashik.

By building good quality homes in Nashik at decent enough prices, this real estate company is helping every home buying dream to become a reality. They construct every house with care, putting an emphasis on quality, practical details, and providing excellent value for the money spent. As Pranav Constructions develops new homes and properties across Nashik, one of the company's aims is to win people's trust and gain their faith in the real estate developments that they have to offer.
Real Estate Projects of Pranav Constructions
---
Displaying 1 - 5 of 5 total results