About PR Builders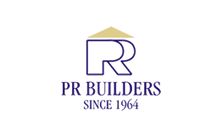 PR Builders the name is derived from the owners name "Prahladrai Ramchand" (P.R.). This company was earlier started in the year 1964 by some of the best players of real estate India who are Mr. Chaturbhuj R. Wadhwani, Mr. Niranjan R. Wadhwani and Mr. Premchand Wadhwani. Since then the company has delivered various quality and most demanded projects across Mumbai at the best location and that too at a very competitive rates. These location includes some of the well known area such as Bandra, Khar and Santacruz etc. To take this company to the advanced level the company is now handled by the next generation i.e. Mr. Ajay C. Wadhwani, Mr. Avinash N. Wadhwani and Mr. Kunal P. Wadhwani are working along with their founding fathers.

At PR Builders, they always focus on providing premium residential apartments that meets almost all the needs of buyers or investors. Their main strenght is, years of experience, highly skilled knowledge and personal involvement in each and every aspects of home building. Hence each and every project comes with branded products, modern designs, premium quality, long lasting constructions and best customer service before and after sales.

By creating and delivering properties that are state of the art, PR Builders intends to impact the real estate sector in Mumbai, positively. This real estate development company in Mumbai is dedicated to offering high-quality settings that improve the present and look forward to the future. This property developer in Mumbai also seeks to make its presence known by generating high-quality real estate projects that provide customers excellent value for their money and the best possible level of happiness. When it comes to satisfying the requirements and requirements for real estate that are set out by the clients, this real estate development organization in Mumbai spares no effort.

In the competitive field of real estate in Mumbai, PR Builders is a major participant and is trying its best to bring quality and consistency on board. As a real estate developer in Mumbai, this company is actually helping many home buyers and real estate investors to achieve their dreams of owning their own homes in Mumbai.

By building good quality homes in Mumbai at decent enough prices, this real estate company is helping every home buying dream to become a reality. They construct every house with care, putting an emphasis on quality, practical details, and providing excellent value for the money spent. As PR Builders develops new homes and properties across Mumbai, one of the company's aims is to win people's trust and gain their faith in the real estate developments that they have to offer.
Real Estate Projects of PR Builders
---
Displaying 1 - 18 of 44 total results