OC Received For Kalpataru Radiance and Ekta Tripolis in Siddharth Nagar, Goregaon West

Kalpataru Radiance & Ekta Tripolis in Siddharth Nagar Receive OC
In some great news for Siddharth Nagar real estate and for the many home buyers in Ekta Tripolis, Kalpataru Radiance, Sangam Lifespaces Luxor - Ekta Tripolis and Kalpataru Radiance have received Occupation Certificate finally.
There are many who have been checking Kalpataru Radiance & Ekta Tripolis OC status and this is indeed fantastic news for them.
Finally the Maharashtra Housing and Area Development Authority (MHADA) has issued the Occupancy Certificate (OC) for the free-sale component structures of the contentious Patra Chawl redevelopment project in the western Mumbai suburb of Goregaon west. Last month, the Bombay High Court ordered MHADA to issue occupancy certificates for free-sale buildings in this 47-acre project.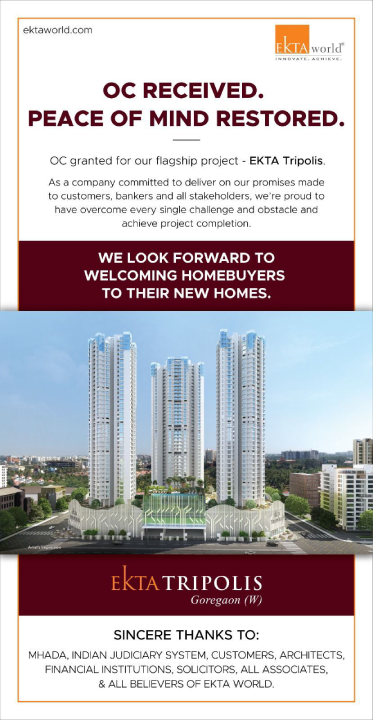 About Ekta Tripolis:
In the affluent suburb of Goregaon West, Ekta Tripolis offers exquisitely designed 2 and 3 BHK apartments. Ekta Tripolis is a remarkable structure with 36 residential levels.

Ekta Tripolis, one of the most opulent developments in Siddharth Nagar, features many amenities, including the following:

Two- and three-bedroom apartments in Goregaon West.

Spacious interiors, modular kitchens, imported marble flooring, and more.

First Evander Holyfield gym in Goregaon West, an international fitness brand.

Bustling social infrastructure, close to Prabodhan Kridabhavan, Ozone Swimming Pool, VIBGYOR School, Vivek Vidyalaya, Adarsh International School, and more.
Check more details about Ekta Tripolis HERE
Kalpataru Radiance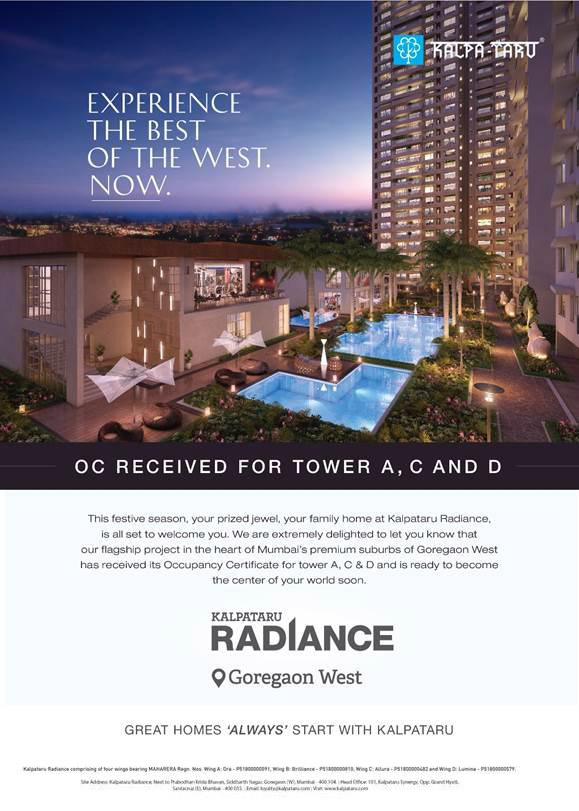 Kalpataru Radiance provides all the benefits of a life well-crafted. The expansive, four-tower residential complex strategically located in Goregaon (West) emanates luxury at every turn. With amenities such as a clubhouse, spa, fitness centre, swimming pool, and sports court, you will be spoiled for choice. With acres of landscaped greens and numerous recreational opportunities, this location has something for everyone.
Developed by the Kalpataru Group, this luxury project in Goregaon west will surely go from strength to strength after receiving the occupation certificate in April 2023.
Highlights
As instructed by the Bombay High Court, we have issued the OC for the free-sale component structures. The transfer can commence based on the developer's and purchasers' mutual agreements," Milind Borikar, chief executive officer of the Mumbai Board – MHADA
Homebuyers of the projects of real estate developers Kalpataru and Ekta Group can now anticipate a transition in the near future.
As per a Kalpataru Group personnel, this would surely provide Kalpataru Radiance home buyers a huge relief. He also mentioned that they appreciated the Bombay High Court's ruling as well as MHADA's prompt issuance of the occupation certificate following the ruling. He added that the buildings at Kalpataru Radiance have been ready for an extended period of time, and the company to handing over possession of the apartments.
In 2008, the housing board awarded the contract to Guru Ashish Construction Pvt Ltd, a subsidiary of the real estate developer Housing Development Infrastructure Limited, for the redevelopment of 672 tenements on the 47-acre MHADA property (HDIL).
Guru Ashish was expected to rehabilitate 672 families, create low-cost housing stock to be given to MHADA, and sell the remaining land.
However, the project was delayed, and in 2018 MHADA issued HDIL a termination notice. The promoters of HDIL were ultimately apprehended in relation to the Punjab National Bank fraud.