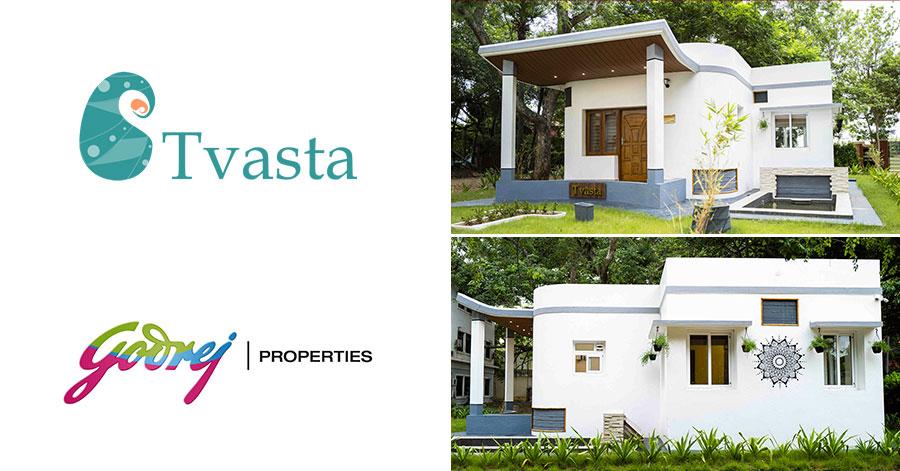 Godrej & Boyce has revealed that its Godrej Construction division has teamed with Tvasta Manufacturing Solutions, an Indian startup created by IIT-Madras alums, to launch and commercially deploy an innovative 3D construction printing (3DCP) technology in India. This cooperation will enable Godrej Construction to launch and operate 3DCP technology commercially.
Godrej Construction and Tvasta will construct environmentally friendly infrastructure projects, housing solutions, disaster relief structures, national defense-related applications, and other public amenities in India and beyond. These innovations would be motivated by Atmanirbhar Bharat.
This indigenous 3DCP technology platform was developed by Tvasta, a deep technology startup with operations in Chennai and Bengaluru. This platform uses automation and robotics to develop a building process that is both more efficient and less harmful to the environment than conventional approaches. The new platform also offers the ability to use modular off-site construction techniques. These factors may aid in reducing the overall carbon footprint of construction projects, hence enhancing worker safety by decreasing the probability of injury on the job site.
Godrej Construction and Tvasta collaborated to build a proof-of-concept in order to address the rising demands imposed on the Indian real estate and infrastructure sectors. The bus stop shelter was 3D printed in 32 hours and built in 8 hours on-site. Godrej Construction and Tvasta have partnered for the first time to create a concept for a highly sustainable concrete mix.
This mix design incorporates around 30% recycled concrete aggregates (RCA), which are derived from concrete waste debris and recovered at the Godrej Recycled Concrete Plant in Vikhroli, Mumbai. The objective of this partnership is to encourage the building sector to embrace circular economy ideas. The one-of-a-kind structure has a unique physical design in the shape of a curved geometry to illustrate the aesthetic flexibility, structural advantages, and enormous potential that this technology has to offer the construction industry.
The bus stop and adjacent business signage are lighted at night by solar panels that are distinct from those that power the rest of the construction. The germ of the idea was seeded by Godrej & Boyce's "Sprint" Push, an organization-wide initiative for intrapreneurial innovation.
Anup Mathew, senior vice president and business head of Godrej Construction, said, "We are pleased to collaborate with Tvasta, an Indian start-up that produces 3D construction printing technology." Godrej Construction is committed to providing solutions for the built environment that are innovative, ecologically sensitive, and customer-centric. As a consequence of our cooperation on the creation of this pilot project, we believe there is a substantial opportunity for us to capitalise on and extend our usage of this developing technology to the benefit of our stakeholders.
Even on a global scale, the 3DCP technology is still at a very early and fluid stage of development, and our present objective is to collaborate with major industry participants in the investigation of prospective deployment opportunities for this technology. Godrej Construction, a division of Godrej & Boyce with a current market capitalization of Rs. 1 trillion, plans to increase its construction sector service offerings.
Vidyashankar C, co-founder and chief operating officer of Tvasta, said, "We are happy to partner with a pioneer and thought leader in the building materials business like Godrej Construction." We have reason to assume this synergy will facilitate the quick expansion of our technology platform's capabilities. In turn, this will undoubtedly result in an extension of the diversity of construction solutions that Tvasta offers for the nation's many diverse use cases.