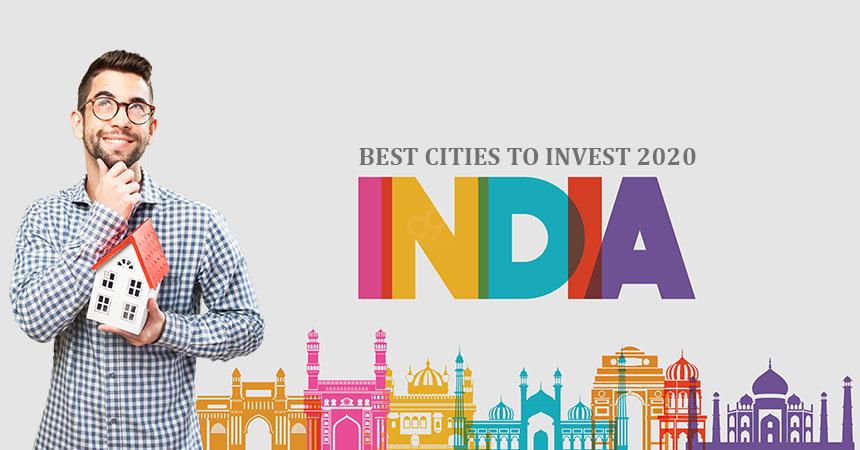 Which are the Best Cities in India for Property Investment in 2020?
India is an organic, populous, young and constantly growing entity and the Indian real estate market has the potential to grow exponentially in 2020 and beyond.
With the Indian governments' special focus on housing for all citizens and the government's various real estate initiatives, the Indian real estate market is definitely on the right path as far as the long run is concerned.
The number of infrastructure projects, metro trains, bridges, roads, building of fresh airports to improve connectivity and multiple other steps to develop public facilities, build better roads and highways, create stronger corridors for improvement of economy taken by the Indian government will surely raise the level of real estate in India in the coming years.
Apart from major cities like Delhi, Pune, Mumbai, Chennai and Bengaluru – even smaller towns and cities are getting a lot of attention in terms of overall development. This factor will surely give rise to multiple real estate markets in various other towns and cities including Indore, Kochi, Ahmedabad, Surat, Vizag, Bharuch, Agra, Mysore, Shillong, Bhubaneshwar, Raipur, Rajkot, Coimbatore, Kolhapur, Patna, Vijaywada, Dehradun, Shimla and many more locations.
With ambitious yet practical plans like developing more than one hundred new airports across the footprint of India including the north east part of India, the government will surely enhance the real estate prospects of a lot of locations in the country. It is therefore critical to know the level of developments and the resulting impact of the same on each of such micro locations in India to understand the best place to invest in property in India 2020.
Many Indian real estate market pundits opine that the power cities of India like Mumbai, Delhi, Bangalore, and Chennai will hold their positions in terms of being stable real estate markets. However due to the all-round development and the growth potential there would be many new real estate investment destinations in India that would emerge to entice property investors in India.
There are many contenders for the strong new markets for property investments in India including cities like Agra in Uttar Pradesh, Patna in the state of Bihar, Bhubaneshwar from Orissa state and Vijayawada in the state of Andhra Pradesh.
With major changes in the government's policies in the Jammu & Kashmir, cities like Srinagar would also grow as a strong real estate investment location in India in the coming years.
With the implementation of various progressive initiatives, Shimla which lies in the state of Himachal Pradesh and Dehradun in the state of Uttarakhand are also predicted to good real estate investment locations in India in 2020 and beyond. It is largely predicted that by the year 2020 the real estate market in India will sell to almost Rs. 46 Lakh Crores.
Although there has been chaos in the past few years in terms of real estate growth one of the best places to invest in India could be Greater Noida with good infrastructure developments happening there including the development of Jewar International Airport.
In the state of Madhya Pradesh, the city of Indore, already famous for its cleanliness and well organized civic facilities along with its commercial strength and educational institutes, is tipped to be an upcoming real estate investment hotspot in India going forward.
In the state of Rajasthan, the cities of Jaipur and Kota have been getting attention of property investors as the strong manufacturing and education framework in these cities propels a lot of quality residential and commercial construction as well as real estate absorption.
Among the front runners as hot property investment cities in India and upcoming real estate locations in India include three cities of Gujarat state including Surat, Rajkot and Ahmedabad.
One very strong contender from the state of Maharashtra is the city of Nashik. Nashik real estate market has been steadily growing due to many factors including its pleasant climate, clean air, and good quality education and pollution free life. The city of Nagpur is another very likely candidate to increase its real estate quotient in the coming years due to the massive developments taking place there.
From the state of Chhattisgarh, Raipur city promises to be one of the best cities to invest in real estate in India due to various positive factors.
In the North east from the state of Meghalaya, the city of Shillong has shown good indications to be one of the best places to invest in property in India.
In the South of the country from the state of Karnataka, the royal city of Mysore is ticking a lot of boxes to be one of the favourite locations to invest in real estate in India along with the city of Coimbatore in the state of Tamil Nadu.
If you are wondering where to invest in property in India in 2020 the following details could help you decide.
In terms of the rate of growth in percentages, the following is an approximate prediction for the above discussed cities and locations. These are potentially the best cities in India for property investment in 2020 and further.
Ahmedabad property market – 25 percent before 2030
Bhubaneshwar properties – more than 20 per cent
Vizag real estate market - more than 20 per cent
Nagpur real estate could grow at a whopping 35 per cent in the next 7 to 8 years.
The city of Agra could likely grow around 25 per cent
Vijayawada real estate – by around 30 per cent
Patna real estate market – around 25 per cent
Raipur property market – around 30 per cent
Mysore realty – around 25 to 35 per cent
Greater Noida real estate market – 25 per cent
Nashik realty market – around 30 per cent
Kochi may grow at 25%-30%.
Shimla realty market – around 20 per cent
Dehradun real estate – around 18 per cent
Coimbatore property sector - approximately 20 per cent
Rajkot property market – Around 15 per cent
Surat real estate market – around 20 per cent
Pune real estate market – around 20 per cent
One glance at the recent history of real estate in India clearly shows that most of the cities earmarked by the government for the Smart Cities initiative have witnessed positive traction in their respective real estate rates in the past 5 years. It is definitely the tip of the iceberg as far as the possibilities of further real estate growth in these Indian cities is concerned as there are a lot of development programs on the cards for these cities in the coming years.
This factor indicates the tremendous potential that exists in multiple real estate markets and in myriad real estate segments across India since the basic fundamentals are robust.
Like any other industry there have been a lot of disruptions in the Indian real estate market too with new real estate models like Co-ownership / Fractional ownership / Co-working spaces evolving further. Also the latest arrival of the organized Co-living segment in Indian real estate has got of a lot of property investors in India interested as it has shown signs of evolving into something very big over the next few years. Many big real estate players in India and brands like OYO have already plunged into the Co-living space category. With the young generation and the millennial less interested in spending astronomical sums to buy real estate and opting to rent instead of buying real estate till the time they can afford it, the real estate rental market in India along with the Co-living space in India could really bloom into one of the biggest real estate category in India in this decade.
Apart from this, commercial real estate and retail real estate in India promises to catapult into a very strong category with the boom in residential market happening alongside. As Indians start to expect a better lifestyle, the growth in sectors like healthcare, education, entertainment and hospitality will definitely trigger all kinds of real estate developments in multiple locations. Also with the fast growth and adoption of e commerce, the warehousing real estate in India which is already growing rapidly, will see further growth in the coming decade.
The impact of Sagarmala and Bharatmala programmes
The logistics and warehousing industries in India are bound to be benefitted in a big way due to the implementation of the above mentioned gigantic initiatives.
The Sagarmala Programme involves harnessing the power of Indian waterways and the great Indian coastline. It is propelled by the government of India as an initiative to improve India's logistics sector by leaps and bounds.
In a similar manner the road and highway connectivity of India will receive a tremendous boost through the Bharatmala Pariyojana. This particular road program will ensure that almost 83,677 km of new highways get rolled out to improve the road transportation in India majorly thus impacting real estate market in India positively.
The good thing with Indian real estate is that although there is a slowdown currently, it is not a shut down. Since the core fundamentals remain strong with more transparency and security in the real estate sector due to RERA and other government initiatives, there are real end use buyers for residential as well as commercial real estate in India.
With steps like increasing the tax benefits on housing loan interest rates are likely to increase the demand for affordable and mid-segment real estate in India further.
The Indian government under the leadership of Shree Narendra Modi has clearly laid out its plans to make the Indian economy cross the threshold of a USD 5 Trillion economy by 2025 with India's real estate is predicted to contribute almost 13 per cent towards India's GDP and help in the achievement of this target.
Also micro level steps like the provision of ITC (Input Tax Benefits) in GST on construction materials for under-construction real estate projects to fund starved real estate developers in India could help the end buyers in a big way as the benefits would help in reduction of real estate prices.
The prudent use of the Rs 250-billion real estate stress fund as declared by the government to help finish the delayed / stuck real estate projects could play a big part in improving the overall sentiment and performance of Indian real estate market going forward.
With a very sound infrastructure push, clear economy plans and of course a very healthy organic demand for real estate and housing, Indian real estate markets are predicted to bounce back with a huge bang in the next few years. Using the above information any property investors in India including the NRI (Non Resident Indians) investors can decide on the best cities in India for real estate investments and choose the best property options there.